Signature Series
---
Signature Series Meridian Series Specifications Gallery Dealer Login
The Signature Series is complete line of premium dental cabinets, custom designed to reflect your workflow, patient load, practice specialty and future growth.  Industry leading construction methods provide design flexibility and unmatched quality, and you get to choose from a full spectrum of custom colours, custom designs and custom materials — for the exact outcome you desire. Also, our dental cabinets include serial numbers for warranty identification and tax benefits. To request a free consultation with our dental cabinetry specialists, simply contact us.
---
Signature Details…
TWO YEAR WARRANTY
We believe in what we build so much that we put our warranty where our mouth is. Our two-year warranty is industry leading. It's also seldom used, because our cabinetry is so well built in the first place.
CUSTOMIZABLE
Do you want a different drawer configuration? A different place for a latex glove dispenser? Our designs aren't about cookie-cutter formats. They're about giving you designs that are effective for you and your workflow.
POST FORMED PLASTIC LAMINATE
We don't corner, we round. We avoid 90° corners in our doors, drawer fronts and support columns. Increases durability and asepsis qualities. Reduces chipping. And looks good.
PLYWOOD CONSTRUCTION
Insides count. For increased strength, our cabinet bottoms are real plywood. It's water-resistant and the access openings in the bottom allow easy routing of equipment conduits/cables.
GLASS WINDOW TREATMENT
Choose our seamlessly designed windows on the front, back or both. Our glass windows are designed with elegant detail, each window is handcrafted for a smooth, clean look and fine borders.
STAINLESS STEEL SINKS
Bow Wood uses stainless steel basins so they always look shiny; instruments don't scratch; and stains don't show. Undermounted so water doesn't collect. Durable foot-activated faucets available.
STEEL BASE
Our one-piece, welded, five-inch-high kick box is not only strong… it's also waterproof and corrosion resistant. It incorporates our heavy-duty adjustable feet for levelling. It also adds a refreshing visual with polished steel.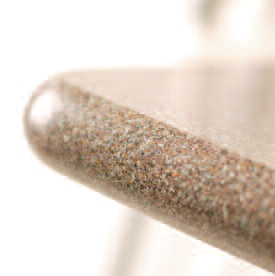 SOLID SURFACE
There's nothing like the real thing. Solid surfacing gives your countertops one of the best surfaces out there. And, if anything happens to it, it usually can be fixed like brand new. Now that's good – real good!