Meridian Series
---
Signature Series Meridian Series Specifications Gallery Dealer Login
Inspired with functional design, Meridian Series cabinets are smart and beautiful. With a vast selection of colour ranges to suit your decor, the flexible design options enhance your workflow and image throughout your office, including reception and storage areas. From design to installation, Bow Wood Cabinet Systems delivers practical, ergonomic and aesthetically-pleasing cabinet solutions that work for you. Our Meridian Series custom cabinets also meld with our Signature Series. To request a free consultation with our dental cabinetry specialists, simply contact us.
---
Meridian Details…
TWO YEAR WARRANTY
We put our warranty where our mouth is. Our two-year-product warranty is industry leading. It's also seldom used, because our cabinetry is so well built in the first place.
DURABLE EDGING
We use 3mm edging on our Meridian Series panels, doors and drawer fronts. This results in increased durability, reduced chipping and a very smart clean look!
EUROPEAN HARDWARE
We go the extra mile – right down to the hinges. We use the best hinges Europe can make. They allow for greater adjustability in all directions. It's all about the details!
PLYWOOD CONSTRUCTION
Insides count. For increased strength, our cabinet bottoms are real plywood. It's water-resistant and the access openings in the bottom allow easy routing of equipment conduits/cables.
GLASS WINDOW TREATMENT
Choose our seamlessly designed windows on the front, back or both. Designed with elegant detail, each window is handcrafted for a smooth, clean look.
STAINLESS STEEL SINKS
We use stainless steel basins so they always look fresh; instruments don't scratch; and stains don't show. Undermounted so water doesn't collect. Foot-activated faucets available.
STRUCTURAL BASE
Our kick base is made of 1″ thick plywood faced with laminate. Strong and water resistant, it incorporates our heavy-duty leveling feet, with no need for plastic legs or shims.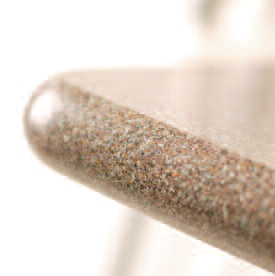 SOLID SURFACE
There's nothing like the real thing. Solid surfacing gives your countertops one of the best surfaces out there. Hygenic and safe. Smart with a very contemporary look.